Britt Soden - Head Striking and Krav Maga Instructor
Soulcraft's Muay Thai and Krav Maga programs are run by Apex Krav Maga's Britt Soden. Britt begain his martial arts training at the age of 9 with Tae Kwon Do and Karate and began training in MMA in his late teens. He has lived and studied the art of Muay Thai in Thailand and has been a dedicated Krav Maga practitioner since 2005. Britt also has extensive MMA and fitness coaching knowledge and continues to train in Krav Maga as well as Muay Thai. He is currently one of the highest ranking instructors in Connecticut.
SHOW
Dave Bray - Muay Thai Coach
I have been an instructor in various styles of Martial Arts since 2008 and plan on being one for the rest of my life. I currently hold numerous ranks in several styles including a 5th Degree Black Belt in Shotokan Karate, 1st Degree Black Belt in Tae Kwon Do, Blue Belt in Brazilian Jiu Jitsu and a Black Sash in Shaolin Chin-Na. I am only one of two instructors certified to teach Chin-Na in the state of Connecticut. On top of these rankings, I'm also an avid and continuous practitioner in Muay Thai, Brazilian Jiu-Jitsu, and American Kickboxing.
SHOW
I believe that through Martial Arts training, a person can develop strong morals, discipline, confidence, and respect. To me, Martial Arts is not only about the physical, but uniting both body, mind, and spirit. My teaching style ensures that my students have fun all while learning to defend themselves in realistic scenarios. I have also developed a specialty in teaching students with Autism.
Outside of training, I work as a Licensed Orthopedic Massage Therapist and an academic tutor in subjects such as kinesiology, pathology, and acupressure. If you're working through an injury or getting ready for a competition, I can help.
Overall, my goal is to continue learning and walking down this life-long journey that is Martial Arts.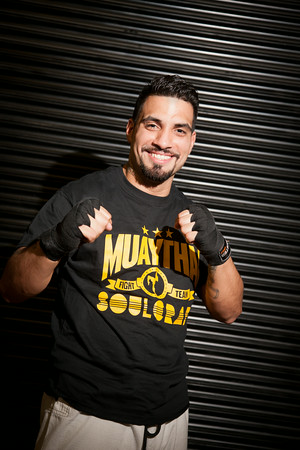 "Magic" Mike Vargas - Muay Thai Coach
As one of the first students when Soulcraft opened, what struck me right away was the close-knit community and family atmosphere I found here.
SHOW
Several years later, I am happy to be a part of the coaching staff—sharing my love for BJJ, Muay Thai and MMA with our students and helping them fall in love with the martial arts lifestyle too. Almost every night I can be found on the mats at Soulcraft; whether teaching or training, it truly is my second home!