Soulcraft Summer MMA Training Camp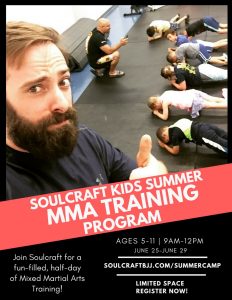 SOULCRAFT KIDS 2018
SUMMER MMA TRAINING PROGRAM
This summer, Soulcraft is excited to offer two outstanding summer training opportunities for both Wolf Cubs and Soulcraft Kids! As part of each day, your child will train in a variety of martial arts to make a true Mixed Martial Arts (MMA) experience.
Our Soulcraft Kids summer training focuses on both offensive and defensive application of Muay Thai, Wrestling, and Jiu-Jitsu techniques as well as physical conditioning. Students will be divided into two sections, Wolf Cubs for ages 5-7 and Soulcraft Kids for ages 7-11. Space is limited for each group, so be sure to register early!
June 25th-June 29th, 2018
Monday – Friday, 9am-12pm                 Tuition: $180
Second child, sibling discount (50% off)
Additional required forms:
Please submit registration forms to the front desk at Soulcraft Martial Arts.
For additional information contact