Brazilian Jiu-Jitsu FAQ's
What is Jiu Jitsu at Soulcraft Brazilian Jiu Jitsu in Hamden, CT all about?
Brazilian Jiu Jitsu is a martial art with a heavy emphasis on grappling. With origins in judo, this off-shoot of Japanese-style Jiu Jitsu is based on the premise that no matter your size or physical strength, you can successfully defend yourself against a larger, stronger opponent with the use of leverage and proper technique. As a result, Brazilian Jiu Jitsu has enjoyed huge success in mixed martial arts and is an excellent art for people of all ages and fitness levels to learn as a form of realistic self defense.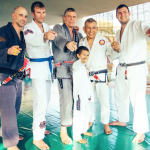 Am I'm too old or out of shape to learn at Soulcraft Brazilian Jiu Jitsu?
No way! At our Hamden, CT studio Brad Wolfson and Master Marcio Stambowsky work with students ranging in age from 4 to 64; and we teach people with varying levels of physical fitness. All of our exercises, drills, and sparring can be tailored to fit your individual fitness goals and everyone in New Haven County can get in great shape while having fun and making new friends!
I've never practiced a martial art before, is Soulcraft BJJ the right environment for me to learn?
Yes! Our Hamden, CT classes are packed with students from a wide array of martial arts backgrounds. Some hold high rank in other martial arts, while for others, BJJ is the first art they have studied. Soulcraft Brazilian Jiu Jitsu is a welcoming family environment. Regardless of your martial arts background, you are welcome to train, learn and grow with us. After all, a black belt is just a white belt who never quits… so come on in!
What are your training facilities like?
Soulcraft Brazilian Jiu Jitsu classes are conveniently located at 1125 Dixwell Avenue in Hamden, CT. As one of New Haven County's premier Brazilian Jiu Jitsu academies, we are easily accessible to the Merritt Parkway, Whitney Ave, Dixwell Ave and I- 91.
We feature the guidance of a red and black belt master instructor with over 35 years experience and a chief instructor with more than 25 years of Brazilian Jiu Jitsu experience. Soulcraft offers a spacious mat area with plenty of extra room, access to showers and changing rooms and a lounge area for relaxing before or after class. Everything needed to learn some great BJJ techniques and get in the best shape of your life is right here!
Do I need a special uniform to train at Soulcraft Brazilian Jiu Jitsu?
Comfortable clothing like shorts, t-shirt, tracksuit bottoms, etc. will be fine for your first day of training with us. Once you decide Jiu Jitsu is right for you, you will want to purchase a gi (training uniform.) We have gi's for sale at our Hamden, CT academy, or if you prefer, we can recommend places online or in New Haven County to purchase one.
Is Brazilian Jiu Jitsu at Soulcraft Brazilian Jiu Jitsu suitable for females?
Absolutely! One of the main goals of Brazilian Jiu Jitsu is the use of technique and leverage to control, protect and even submit a much larger opponent. Therefore it is perfectly suited for females to use for self defense—something Soulcraft specializes in teaching. In addition to the physical benefits, Jiu Jitsu also teaches core values like respect, listening skills and responsibility—making it perfect for children too.
Are there other program offerings at the Soulcraft BJJ studio?
Yes. We offer class for fitness, Muay Thai, and Krav Maga.
What is a typical class like?
A typical class at Soulcraft Brazilian Jiu Jitsu lasts about an hour and a half. Classes start with a short warm up and stretch. 30 to 40 minutes is spent working on techniques and then sparring or live drilling for 15 to 20 minutes.
What is the ranking system at Soulcraft Brazilian Jiu Jitsu like?
Here at Soulcraft Brazilian Jiu Jitsu, we follow the traditional ranking system of Brazilian Jiu Jitsu. Under Master Marcio Stambowsky, 7th degree red and black belt, this consists of 5 belts for adults: White, Blue, Purple, Brown and Black. Each belt takes about 2 years of consistent training before graduating to the next level. It takes about 10 years on average to achieve the rank of Black Belt in Brazilian Jiu Jitsu; although promotion really depends on how much time you put in on the mats.
Will I get in shape and feel better learning Jiu Jitsu at Soulcraft Brazilian Jiu Jitsu?
Yes. Soulcraft Brazilian Jiu Jitsu is a full body workout and it is seriously addictive. With regular training, you will notice huge gains in your physical fitness level. And the great thing is… you'll have fun doing it!