About Krav Maga Fitness
Our program is perfect for women of all ages and fitness levels. Don't worry if you are a beginner, have not worked out in years or are not in peak physical shape; you will NOT be left behind at any point.
A better, healthier, more confident you…
Krav Maga fitness is a fitness boot camp program that combines high intensity contact-free martial arts instruction, nutritional counseling, and motivational group fitness training for all levels—packed with challenging, fun and energizing activities designed to help you burn fat, build lean muscle, and reach your fitness/nutritional goals as fast as possible.
If you are looking to effectively lose weight, burn fat, tone your body, meet some new friends, and receive ongoing support and motivation, then you have come to the right place!
Workouts are designed around time-based strength and conditioning circuits and Krav Maga combatives training (kicking and punching heavy bags and pads), so you are only competing against yourself and the clock. You can work at your own pace, improve each time and everyone around you will help to motivate and support you as you go!
Why is this important?
Think for a minute about how much energy and alertness you could have to enjoy a full day, not just parts of it. How about going through your closet and looking dynamite in everything you put on. Imagine the confidence you'll walk around with knowing you did you're best and you're now stronger (both inside and out) because of it.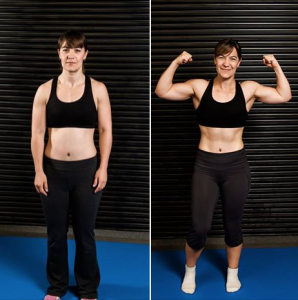 "Ok so last Friday ended my 6 week Krav Maga Body Challenge at Soulcraft in Hamden, and though I didn't lose much weight, I was already eating pretty well and working out regularly, I definitely tightened up and added muscle! It kicked my ass but it was totally worth it! Here's my before and afters! Definitely check them out. It's a great place!"
-Heather P.
Here Is Why Krav Maga Fitness works:
Each workout has been carefully designed based on real world science and proven to work for ALL fitness levels, EVERY TIME!

Each workout is designed to crank up your metabolism and maximize your body's ability to burn fat.

You'll be surrounded by supportive people with similar goals who will help motivate and push you to be your best.

We eliminate all of the guess work by providing you with complete workout and nutrition programs so you will know exactly what you should be doing every step of the way.

It's a seriously fun, stress relieving workout and you will never get bored!
In addition to great workouts your membership includes:
An e

asy- to-follow meal plan complete with shopping lists—taking the guess work out of planning and preparing healthy, easy-to-make meals.

Free access to weekly mobility and yoga classes here at Soulcraft.

Awesome coaches with years of Krav Maga and fitness experience.

A w

eekly workout schedule so there will be no guesswork on what or how to get fit.

A supportive environment of like minded peers working towards similar goals.
Ready to change your life forever?