About Soulcraft Kids
WOLF CUBS KIDS BRAZILIAN JIU JITSU! CHARACTER DEVELOPMENT AND SELF DEFENSE FOR AGES 5-13!
Did you know that Martial Arts Training is 10 times better than Team Sports for developing a child's self-esteem and self-confidence? Here at Soulcraft BJJ we teach the skills that will last a lifetime! The #1 Kid's Martial Arts and Character Development Program in the New Haven, CT area, Wolf Cubs JiuJjitsu will teach your child:
How to avoid peer pressure
How to handle bullies
How to get better grades
How to work together with other children
How to defend themselves
How to learn valuable listening skills
And much more…
Discover How To Give Your Child a Head Start in Life!
Here at Soulcraft BJJ, our team of experienced instructors will deliver the resources, tools and attention needed for your child to find success. If you're like many of our parents and want the absolute best for your child, then we invite you to see for yourself what our program has to offer and to Sign Up for 30 Free Days of Wolf Cubs now!
We've designed our program to teach the core values of jiu jitsu as a lifestyle—striving to create a fun and practical approach to not only prepare children to defend themselves so they don't have to; but as a way to teach respect, self-confidence, teamwork and valuable listening skills they can carry into the classroom and beyond.
We'll help your child gain control over their emotions, learn how to better deal with peers; and be filled with the self confidence that comes with knowing valuable self defense skills.
And… it's all done in a way that is fun, energetic and engaging!
Jiu Jitsu has transformative effects; as a great way for kids to:
Learn to overcome adversity
Solve problems
Manage relationships with peers and adults.
Control their emotions
So how is Wolf Cubs different from other kids martial arts programs in the area?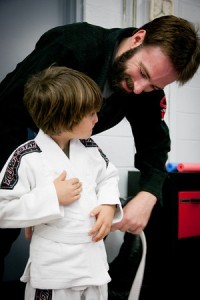 It's simple… we teach the core values and character development that come with traditional martial arts; however OUR focus is on the use of leverage and technique to help kids subdue bullies and stay safe.
Although we always teach verbal communication first to defuse situations, the self-defense techniques we practice allow children to maximize leverage and technique to neutralize larger, stronger opponents without the need to kick, punch, or hurt others if the situation arises.